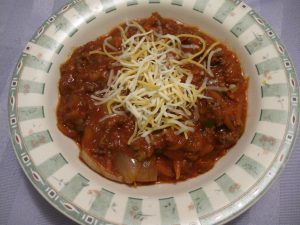 Whaaa? Carrots in chili? Why yes, and they are quite good. If you have a food processor with a shredding blade, this is a snap to throw together!
from Simply in Season
1 lb ground beef (actually used ground venison)
4 cups tomato sauce
1 can cream of celery soup
2 1/2 cup carrots, shredded
1/2 cup celery, chopped
1/2 cup onion, chopped
1/2 cup green pepper, chopped
3 cloves garlic, minced
1/2 tsp celery seed
salt and pepper to taste
1 1/2 cups water
1. Brown the ground beef in a large soup pot.
2. Add vegetables and cook until tender, about 20-30 minutes. Can garnish with swiss cheese.
Servings: 6
The verdict: If it had beans, you'd think it was chili. But it doesn't have beans, it has carrots. Crazy, huh? But DH and I ate lots of it. The carrot flavor wasn't very pronounced, but it did give the chili a lighter flavor profile than your regular run of the mill chili. If you have kids that won't eat vegetables, this is a great way to hide them!
Nutrition Facts
Serving size: 1/6 of a recipe (15.2 ounces).
Percent daily values based on the Reference Daily Intake (RDI) for a 2000 calorie diet.
Nutrition information calculated from recipe ingredients. One of the recipe's ingredients was not linked. This ingredient is not included in the recipe nutrition data.
Amount Per Serving
Calories 306.48
Calories From Fat (55%) 168.82
% Daily Value
Total Fat 18.4g 28%
Saturated Fat 6.93g 35%
Cholesterol 62.29mg 21%
Sodium 1335.67mg 56%
Potassium 1010.57mg 29%
Total Carbohydrates 19.44g 6%
Fiber 4.69g 19%
Sugar 10.86g
Protein 17.07g 34%
This post linked to Seasonal Sunday, Monday Mania and Recipe Roundtable