Over the next several weeks I'll be blogging more about fitness. I realized that I can't wait until New Year's; I need to start NOW, before the Holiday parties and goodies start calling my name. I hope you can share your tips and ideas as we go along.
I'm sure you've heard of Beach Body, P90X, and Insanity. But have you heard of RevAbs by the same company?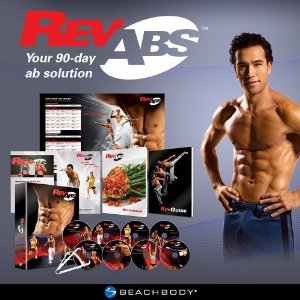 BeachBody Fitness sent me a review copy, as well as a copy to give away to one of my lucky readers! I was going to start this week, but I had a TON of things come up so I decided to start next week instead, and let you know how it goes. I did do one of the videos (it kicked my butt!).
I think the title is a bit misleading, because it focuses on building overall strength/muscle in addition to interval training and cardio, so it's not all about crunches – in fact I didn't do any in the video that I did do. It also incorporates some yoga moves, which is nice.
It comes with a poster which I actually put on my living room wall. Which is empty, long story, but we don't use it so I turned it into a gym for the winter.
It's a 90-day workout, and the package includes 9 routines on 7 DVDs, plus Revguide, Nutrition Guide, Anytime, Anywhere Abs, RevAbs Wall Calendar, Professional Fat Caliper, and FREE Online Support.
Congratulations, Tatum!
How You Can Win A Copy
One entry for each of the following. I know it's a long list, but this is an $85 value!
REQUIRED: Comment below and promise that you'll keep us updated on your progress! (Hey, I don't want to be the only one!)

Follow @BeachBody on Twitter
Follow @thelocalcook on Twitter
"Like" RevAbs on FaceBook
"Like" The Local Cook on FaceBook

Write a post on your own blog about your fitness goals and mention this contest, and comment below sharing the link.
Good luck! Entries will be accepted until November 24, 2010, midnight EST; Limited to the U.S. and Canada.