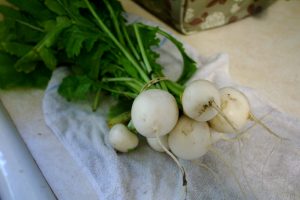 I love when my CSA basket tells me what to have for dinner. As I was driving home from pick up in the rain, I thought of all the soups I could make. Potato soup sounded good, but I didn't have any potatoes. I wondered if I had any recipes for turnip soup in my cookbook collection? Luckily I found one in the first book I picked up.
You'll notice from the photo that I used white or "baby" turnips, which are available in the spring and fall (the storage, winter variety are a bit harder and require peeling. These did not.) I also discovered that I didn't have quite enough turnips themselves. Last week when I received a bunch of these turnips I used half of them in the mixed roasted roots. No matter, I decided to add a few radishes to make up for them. That's right, I've decided that radishes are just pink turnips. I seem to be able to use them up faster that way 😉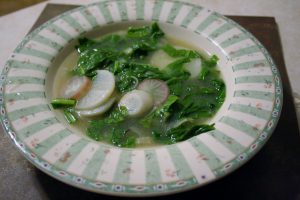 Turnip and Turnip Greens Soup
Source:  The Art of Simple Food: Notes, Lessons, and Recipes from a Delicious Revolution. (my new favorite cookbook)
Ingredients:
2 bunches young turnips with greens (washed; turnips sliced thin, roots trimmed,  peel if needed, remove stems from greens and cut the greens into 1/2-inch strips or so.)
3 Tbsp butter or olive oil (I used a butter I just discovered at a local organic market; it was delish!)
1 onion (sliced thin; since I had just picked up a bunch of leeks at my CSA pickup I substituted 3 small leeks, sliced)
1 bay leaf
2 thyme sprigs (I was able to go out in the rain and pick a couple out of my yard, but you could probably substitute a dash of dried thyme if you don't have fresh on hand)
salt
6 C chicken broth (can also use water. I had a box of organic stock from Costco that was 4 C so I just used that plus 2 C of water. Alice Waters suggests adding a couple of Tbsp of oil or butter at the end of cooking for richness if using all water.)
Directions:
In a heavy pot over medium heat, melt butter (or heat olive oil) and saute the onions until soft, about 12 minutes. (The leeks took about 7, and got all nice and browned without burning).
Add the turnips, bay leaf, thyme, and salt. Cook for 5 minutes. The smell will be heavenly!
Cover with the chicken broth and bring to a boil; then turn heat down to a simmer and cook for 10 minutes. Add the greens and cook another 10 or until tender. Check to see if you need to add more salt at this point.
The Verdict: Definitely a keeper of a recipe, and very frugal. My Grandma would be proud if she were alive today. My parents call this hillbilly food, but to me it seems so nourishing and satisfying. Since I've used the last of the boxed stock, I suppose it's time to learn to make my own. Oh yes, I almost forgot to mention the actual star of the meal–the garlic knots that my friend Cindy made for me in exchange for some of the extra raw milk I get in my herdshare. DELICIOUS!
This post shared at Frugal Fridays, Grocery Cart Challenge, Foodie Friday, Fight Back Friday, Food on Fridays, I'm Lovin' It, Fresh Bites Friday, Monday Mania