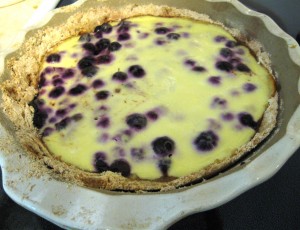 Use blueberries or peaches for this unique  pie!
FOR PRINTABLE VERSION CLICK HERE: Whole Wheat Peach (or Blueberry) Kuchen
Source: Simply in Season
3/4 cup whole wheat pastry flour
1/2 cup flour
2 Tbs sugar
1/4 tsp salt
1/4 tsp baking powder
1/4 cup butter
4 cups peach halves
3 Tbs sugar
1 tsp ground cinnamon
1 cup plain yogurt
1 egg (beaten)
2 Tbs sugar
1/2 tsp vanilla
1. Combine flours, sugar, salt, and baking powder in a large bowl.
2. Cut in the butter until crumbly and press into the bottom of a pie pan.
3. Arrange peach halves on top of crust, cut side down.
4. Mix together cinnamon and sugar and sprinkle on top. Bake in preheated 450F oven for 15 minutes.
5. Combine yogurt, eggs, sugar, and vanilla and pour over the peaches and bake for an additional 30 more minutes or until set.
Servings: 6
The Verdict: This is the second pie crust sort of crumble thing from Simply in Season that I made where the crust didn't do much, it's like it needed liquid or something to hold it together, even with the butter in it. The middle part was good, though, and I was able to use some of the blueberries that I had frozen a couple of weeks ago.
Nutrition Facts
Serving size: 1/6 of a recipe (7.5 ounces).
Percent daily values based on the Reference Daily Intake (RDI) for a 2000 calorie diet.
Nutrition information calculated from recipe ingredients.
Amount Per Serving
Calories 303.52
Calories From Fat (28%) 84.97
% Daily Value
Total Fat 9.68g 15%
Saturated Fat 5.59g 28%
Cholesterol 58.04mg 19%
Sodium 159.1mg 7%
Potassium 354.92mg 10%
Total Carbohydrates 48.77g 16%
Fiber 2.63g 11%
Sugar 27.26g
Protein 7.01g 14%