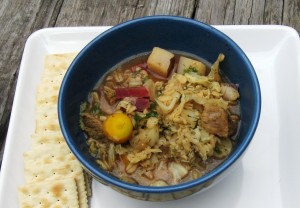 No, it's not winter (even though it feels like autumn outside! The temps went from upper 90s to lower 60s this week) I was pleased that I could use many of my CSA vegetables for this stew from Simply in Season.
CLICK HERE FOR PRINTABLE VERSION: Winter Borscht
3/4 lb stewing beef
1 cup onion, chopped
8 cups water
2 cups potatoes, chopped
1/2 head cabbage, shredded
1 cup beets, chopped
1/2 cup carrots, diced
1/2 cup pearl barley
2 bay leaves
2 Tbs dried dill
1 tsp salt
1/4 tsp pepper
1/2 cup parsley, chopped
1. Brown beef and onion in a large soup pot over medium heat (about 10 minutes).
2. Add everything except parsley, bring to a boil, cover and and simmer for 30 minutes.
3. Add parsley and simmer until barley is cooked and meat is tender (another 10 minutes or so).
Servings: 6
The Verdict: "That looks like stew," said DH when he saw it. "Isn't borscht red?" I did some searching on the internet, and indeed, most other versions look much more red. However, this still tasted great. Nice and hearty and earthy without being objectionable. The dill and parsley help brighten things up.
Nutrition Facts
Serving size: 1/6 of a recipe (22.1 ounces).
Percent daily values based on the Reference Daily Intake (RDI) for a 2000 calorie diet.
Nutrition information calculated from recipe ingredients.
Amount Per Serving
Calories 354.98
Calories From Fat (15%) 54.68
% Daily Value
Total Fat 6.1g 9%
Saturated Fat 1.5g 8%
Cholesterol 49mg 16%
Sodium 479.64mg 20%
Potassium 1043.51mg 30%
Total Carbohydrates 46.32g 15%
Fiber 7.8g 31%
Sugar 4.69g
Protein 29.04g 58%
Want more recipes? Check out Two for Tuesday , Tuesday Twister, Delicious Dishes, and Ultimate Recipe Swap