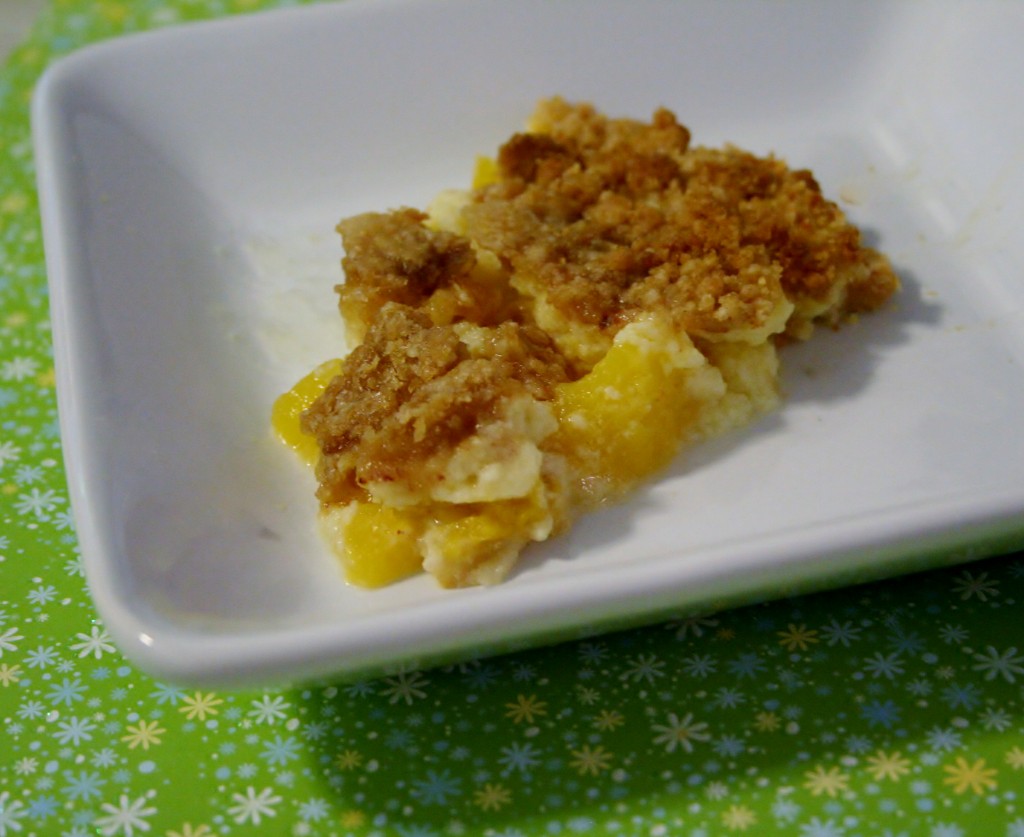 This is one of those "whatever fruit you have will work" recipes from Simply in Season. Since I had a ton of peaches (as you'll see throughout the rest of the week as I post several peach recipes) I decided to make a yogurt peach pie.
FOR PRINTABLE VERSION CLICK HERE: Yogurt Fruit Pie
Source: Simply in Season
1 cup plain yogurt
2/3 cup sugar
1 egg
2 Tbsp flour
1 Tbsp lemon juice
1/4 tsp salt
2 1/2 cups peaches (sliced; can also use berries)
9 inch pastry shell
1/3 cup brown sugar
1/3 cup flour
2 Tbsp butter (melted)
1. Combine yogurt, sugar, egg, lemon juice, and salt and mix well.
2. Place fruit in the pastry shell and pour yogurt mixture over top. Sprinkle with cinnamon. Bake in preheated 400F oven for 25 minutes.
3. Combine brown sugar, flour, and butter. Remove pie from oven, reduce heat to 375F. Sprinkle topping evenly over top of the pie and bake for another 25-30 minutes.
Servings: 8
Yield: 1 pie
Nutrition Facts
Serving size: 1/8 of a recipe (5.2 ounces).
Percent daily values based on the Reference Daily Intake (RDI) for a 2000 calorie diet.
Nutrition information calculated from recipe ingredients.
Amount Per Serving
Calories 292.8
Calories From Fat (31%) 90.18
% Daily Value
Total Fat 10.08g 16%
Saturated Fat 4.25g 21%
Cholesterol 35.91mg 12%
Sodium 222.44mg 9%
Potassium 224.19mg 6%
Total Carbohydrates 47.49g 16%
Fiber 1.18g 5%
Sugar 33.04g
Protein 4.46g 9%
Recipe Type: Dessert
The Verdict: The texture was a bit odd, since the yogurt clumped a little bit. It didn't stop DH from having two pieces, though. I loved the flavor, and the texture of the topping was both delicious and added a nice crunch. He said it reminded him of a peach cobbler.
This post shared at Tempt My Tummy Tuesday, Hearth and Soul, Tasty Tuesday