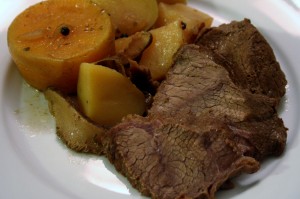 If it's possible to love an appliance, then I'm smitten with my pressure cooker. Forgot to put something in the slow cooker in the morning, and it's almost time for dinner? No problem with a pressure cooker!
I adapted this recipe from The Everything Pressure Cooker Cookbook (Everything Series).
Ingredients:
3 lb pot roast
2 onions, chopped
2 rutabagas, quartered
2 turnips, quartered
2 potatoes, quartered
dried mushrooms (optional)
4 C beef broth (I like to get the organic kind from Costco)
herbs such as pepper, mustard powder, oregano
Directions:
Heat oil in the pressure cooker; brown roast.
Add onion and saute' for a bit while you cut the root vegetables.
Add root vegetables, broth, and herbs to the pot. Cook on low pressure for 45 minutes or so.
Serve!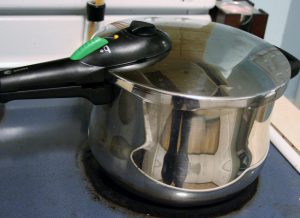 The Verdict: It was a grassfed roast, and it admittedly wasn't as tender as if I had slow cooked it. But it still tasted good, and I loved the variety of root vegetables with the mushrooms.
Note: See the comment section below for a link to an excellent post about pressure cooking by Adrienne.
This post shared at Tuesday Twister, Tempt My Tummy Tuesday, Hearth and Soul, Kitchen Tip Tuesday, Tuesday Garden Party, Works for Me Wednesday, Real Food Wednesday, and Anti-Procrastination Tuesday, Things I Love Thursday