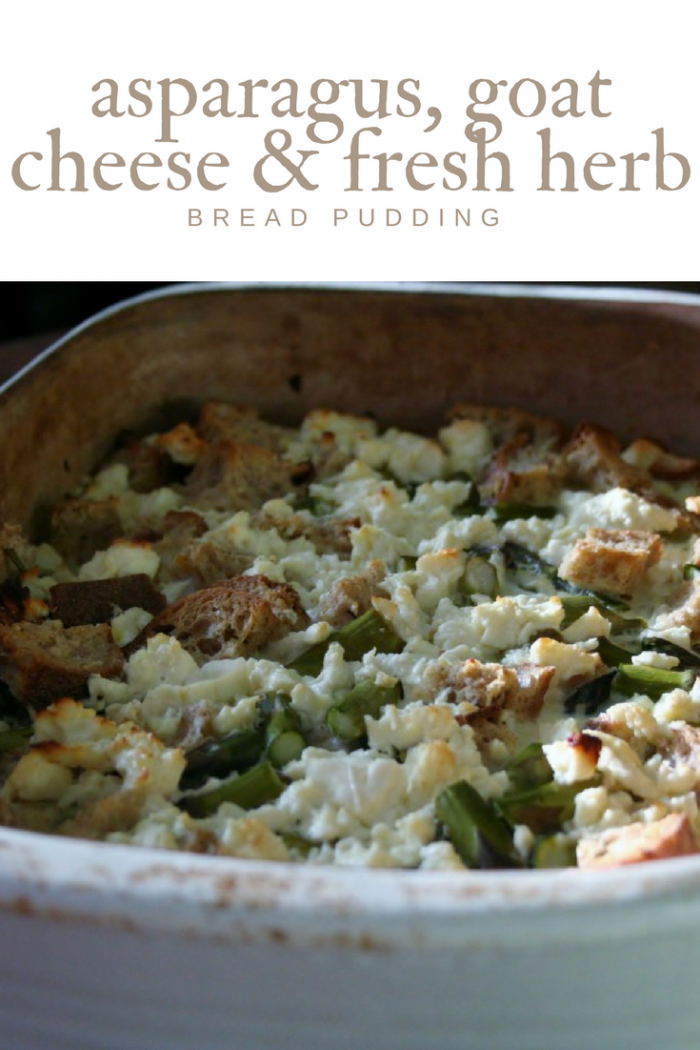 This week's Sunday Supper theme is meatless casseroles for Lent, and this asparagus, goat cheese, and fresh herb bread pudding is a fast and easy recipe for a weeknight meal or special weekend breakfast.
I really need to separate my cookbooks into two piles: One indexed in Eat Your Books, and the other not indexed. I was looking for main dish asparagus recipes and wasn't finding anything. Then it occurred to me to check the cookbooks that weren't indexed. I found what I was looking for in Prairie Home Cooking: 400 Recipes that Celebrate the Bountiful Harvests, Creative Cooks, and Comforting Foods of the American Heartland (America Cooks).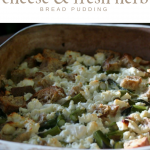 Asparagus, Goat Cheese and Fresh Herb Bread Pudding
Ingredients
1

pound

asparagus

cut into 1-2 inch pieces

2

cups

dry bread

cubed into one inch pieces (sourdough or multigrain, preferably homemade; I just bought a loaf of multigrain)

1/2

cup

mixed fresh herbs

minced (this was fun--I went out to my garden and snipped whatever looked good. I ended up with parsley, chives, and thyme.)

8

ounces

goat cheese

2

cups

milk

3

eggs

beaten

salt and pepper to taste
Instructions
Preheat oven to 350F.

Steam asparagus until just tender, about 3 minutes.

Mix asparagus, herbs, and bread together and place in a 9x13 baking dish.

Crumble the goat cheese over the bread mixture.

In a separate bowl, whisk together the eggs, milk, salt and pepper. Pour over the bread mixture and bake at 350F for 45-50 minutes or until golden brown and the custard has set. Serve hot.
The Verdict: I was a little concerned that there might be too much goat cheese. When it was baking, it smelled really strong. However, it wasn't overpowering at all. The asparagus and goat cheese went together well. Even DH liked it – although he did add a little Parmesan cheese on top. It's a great cool spring day comfort food.
More Meatless Casseroles for Lent
Marvelous Meatless Meals

The Sunday Supper Movement is committed to bringing our readers delicious recipes that encourage them to gather and eat together around the family table. Search for your favorite ingredients on our Sunday Supper website. Also check out the Sunday Supper Pinterest boards for plenty more ideas and inspiration.