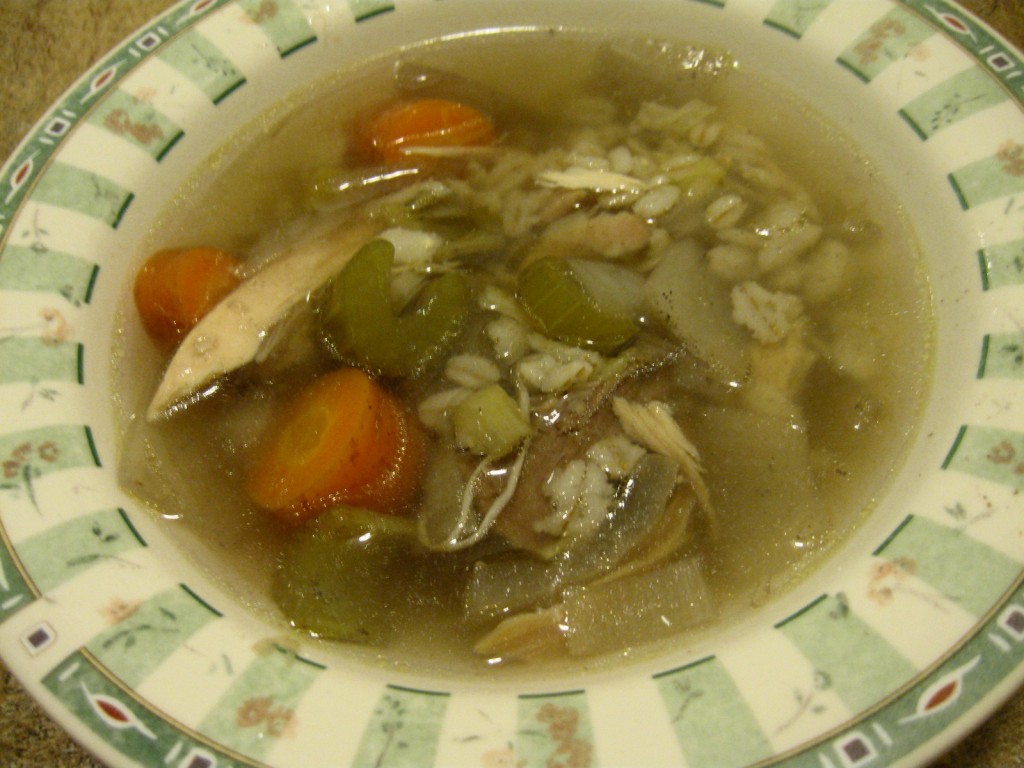 Hang around real foodies or people who know a lot about nutrition, and soon you'll hear talk of something called "bone broth." Sounds weird and kind of time consuming, yes? Luckily it's neither. Soon you'll be using your own homemade stock and bone broth as the base for your own nourishing soups.
Bone broth is made by simmering bones in water for a very long time. That's pretty much the secret. In fact, I made bone broth without even realizing it back when I discovered that very inexpensive stewing chickens make delicious chicken soup, especially when made in a slow cooker. Just put the stewing chicken in the pot, turn it on, and 6-48 hours later you have bone broth! I have even heard about people keeping the slow cooker going for a week, removing stock as they use it and adding more water as they go along for a sort of everlasting stock.
Not only does homemade stock taste better, it saves money!
I love this quote from Allison Siebecker:
The ingredients are as follows: bones from an animal, with or without meat and skin, enough water to just cover the bones, a splash of vinegar, and optional assorted vegetables or their scraps. Making broth requires almost no work, just put the bones in a pot, add water and vinegar, bring it to a simmer and walk away. No chopping or tending is needed. (from her article Traditional Bone Broth in Modern Health and Disease–check it out for a comprehensive list of all the nutrients found in bone broth plus recipes)
I attended a workshop on holistic immunity a couple of weeks ago, and the speaker, Jim Mcdonald, stressed the importance of bone broth. However, something not usually mentioned by the Nourishing Traditions folk, is that adding herbs and medicinal mushrooms can make something good for you even better. A decoction of red clover, oat straw, nettle, astralagus, and turkey tail mushrooms can be added to the broth to help nourish adrenals. I have eaten and made this recipe from my own herbalist, Lisa Rose Starner, a couple of times now. It's delicious as well as nutritious.
Building Blocks Recipe (makes 6 quarts'ish)

Ingredients: 

Decoct herbal mixture SLOWLY in 6 qts of water for 6-8 hours. Simmer, no boil. Add vinegar & let sit overnite for 12 hours. Long cook time is needed to extract minerals. Strain & store in Ball Jars or containers if you aren't making soup right away.
Sautee onion, sweat Burdock & Carrots, then stir in rice & beans, dry mushrooms.
Cover with prepared herbal broth.  Simmer for 20 minutes.
Eat and savor this nourishing, nutrient dense soup.

***This can be prepared as a bone broth as well.  Prepare herbal broth as needed, then add a step for the bones by searing bones in the pot with onion, then pour broth over the bones with 2 TBSP of vinegar for a SECOND long, slow extraction of 12 hours or so. Add water as needed as the broth reduces down. THEN strain and prepare vegetable sautee for the rest of the soup.
Wondering what else to do with broth other than soup? Or, are you an expert bone broth maker looking for a challenge? My friend Katie over at
Kitchen Stewardship
has some great
ideas for bone broth
 for you!