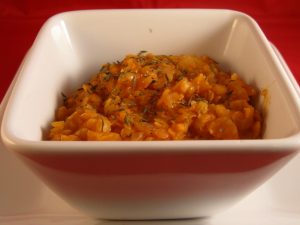 So my "it's not dinner if it doesn't have meat" DH was actually excited when I told him that I was making Ethiopian Lentil Bowl from Simply in Season. I asked him why, and he said that lentils remind him of onions. Ohhh kaaay.
I had never cooked with lentils before this project, and the last time was Red Lentil Coconut Curry.  That dish was delish but time-consuming. And I got the lentils all over the place because I misjudged the holes in the colander that I was using. This time I decided to use cheesecloth instead.
Ethiopian Lentil Bowl
2 cups lentils, rinsed
2 large Onions, chopped
1 head garlic
3 tbs oil
3 tbs tomato paste
1/2 tsp paprika
1 tsp salt
1/2 tsp ginger
1/4 tsp pepper
3 cups water
1/4 cup lemon juice
1. Soak lentils for 30 minutes.
2. Saute' the onions and garlic in a soup pot in 3 T of oil until golden or close enough. You will probably think at this point "boy, that's a lotta onion and garlic!"
3. Mix in tomato paste, paprika, the remaining seasonings, and half the water. Stir, add the rest of the water. Stir again, bring to a boil. When the water boils, add the lentils, lower heat, and cook until lentils have softened, about 20-30 minutes.
4. Add lemon (or lime) juice and serve hot.
The verdict: I wasn't so sure about this when it was cooking. It seemed a lot of pink/golden. I tasted it. I was like hmmm, kind of bland. Then I realized I had forgotten to put the lemon juice in. So I squeezed a lemon in it and tasted it again. Wow, what a difference! Funny how much a little lemon juice can brighten up the flavor profile. (Can you tell I've been watching too much Food Network?) It was actually quite good, and I think I'll add this to my "make again" file. Especially when you look at the calorie info!
Servings: 8
Nutrition Facts
Serving size: 1/8 of a recipe (6.9 ounces).
Percent daily values based on the Reference Daily Intake (RDI) for a 2000 calorie diet.
Nutrition information calculated from recipe ingredients.
Amount Per Serving
Calories 125.32
Calories From Fat (38%) 47.06
% Daily Value
Total Fat 5.34g 8%
Saturated Fat 0.75g 4%
Cholesterol 0mg 0%
Sodium 344.68mg 14%
Potassium 316.05mg 9%
Total Carbohydrates 15.55g 5%
Fiber 4.91g 20%
Sugar 3.43g
Protein 5.22g 10%