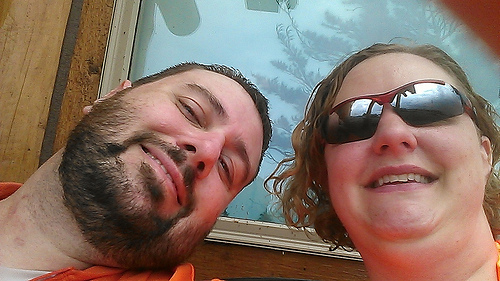 "Why didn't you start an exercise blog instead of a food blog?" DH asked me the other day. "We need to exercise more than we need to eat." I said, "Well, I can write about exercise, too." So I decided to write about the adventure we had this past weekend.
A few months ago, DH suggested that we do the 2-day Michigander Bicycle Tour. "It's only 35 miles a day, for two days," he said. "We have all day – we can take it slow, stop to see the sights, go out for lunch along the way, and relax."
On Friday we drove three hours north to camp at Indian Lakes High School in Indian River. DH was such a sweetie, he let me have the air mattress while he slept on a sleeping pad. There was no 3G, so no checking in on Facebook. I wanted an "unplugged" weekend, but it was still strange. We turned in early since we had a big weekend ahead. As I drifted off to sleep I thought to myself, "Self, I think you should have trained a bit more for this ride. Oh well, 35 miles isn't much, plus you have all day to get there."
At 5:30 AM you could hear tent zippers as people started to tear down and pack their gear bags in anticipation of breakfast and registration and hitting the road. Poor DH was miserable after sleeping all night on the pad. He said it was like sleeping on concrete. He wanted to look for a sporting goods store along the way, so no sleeping in for me.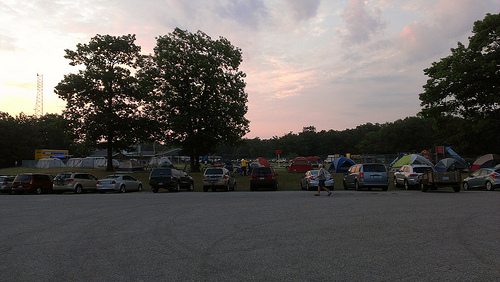 At breakfast we met two older gentlemen from the other side of the state, along with one of their grandsons. It always impresses me when I meet people in their 70s doing these types of trips. I hope to be that energetic in 40 years!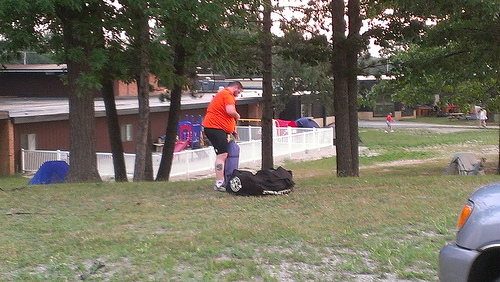 Now, you should know that the Michigander is a celebration of Michigan's rails to trails paths, so you can ride a trail the whole way. Or, if you prefer, you can choose a paved road option. Since I have skinny road tires on my bike, we took the road. One of the advantages of taking the road is that you can coast. On a trail you don't have that option. However, you also don't have hills on the trail. We had some nice hills right away so it was good to see a SAG stop relatively early on.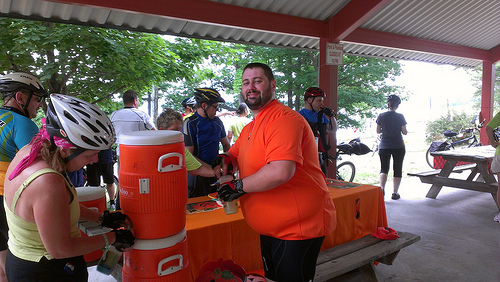 Apparently it's a tradition with the Michigander to have themed SAG stops, just for something fun (although the 2-day riders didn't get a theme on Sunday. The 6 and 7 day riders get more themes. But then, they also have to ride more days!)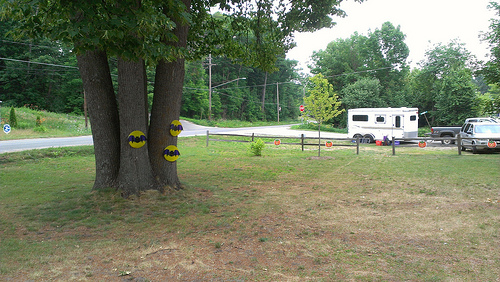 I should mention that there were a LOT of families on this tour. I give props to all the kids who were able to manage riding that long! Although, truth be told, they probably had more energy than most of the adults. There were also several people with those trailers for their kids to ride in. One dad even had two kids in his trailer. Wow!
After the first rest stop, we traveled through Mullet Lake and some beautiful countryside, going through Cheboygan and ending up in Mackinaw City. I really wish that I had taken photos of some of the scenic views, but once we were in a groove we didn't want to stop pedaling. Somehow 35 miles seemed a lot longer once we were actually riding it. The hills took their toll and by the time we got to Cheboygan, where a number of people stopped for lunch, DH wanted to just get to camp as soon as possible to get off the bikes. I agreed. Once we reached Mackinaw City we saw a Bass Pro shop and looked for an air mattress for DH. No luck. We pedaled around (past lots of tempting fudge shops, I might add) and finally found a hardware store. DH ended up buying two blow up pool floaties and using those for a makeshift mattress pad. The extra detour meant that we put in 40 miles on our bikes that day.
When we finally arrived at camp, we were too exhausted to ride back into town, so we ate some ice cream provided by Hudsonville and set up our tents. I then had my first shower trailer experience.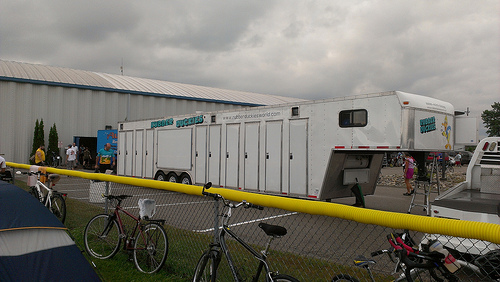 It was HOT. I tried to sleep, but couldn't even nap. So we hung around in the ice rink waiting for dinner to be served. After dinner we heard a loud noise on the roof and realized that it was suddenly POURING rain. I ran out to the tent to make sure everything was zipped up. Ah, breeze! I took the opportunity while it was still raining to lay down for awhile. I shot this video, and as you can see, our neighbors were not going to have dry clothes in the morning:
Then the rain stopped, and it was hot again. We went to bed early, anticipating an early rise, and it rained again. All through the night. Unfortunately the fly was letting in some water drips. We were really, really glad that we had only signed up for the two day tour and not the week-long tour. In the morning, we shoved all the wet stuff into our gear bags, glad to know that we would be sleeping in our own dry beds in our air conditioned bedroom that night! Only one thing stood between us and pure comfort . . . a 37 mile ride and a three hour drive.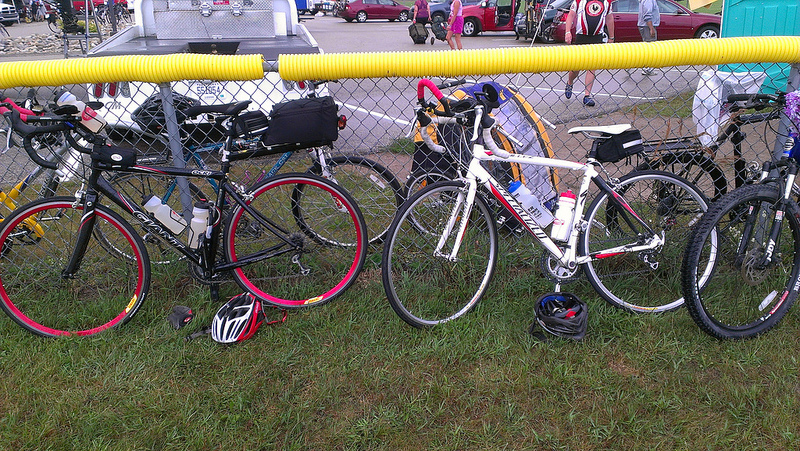 I can't tell you how tempting it was to try to bribe a ride back to Indian River. We were so tired, wet, sore . . . but we persevered. We stopped at all the SAG stops and somehow managed to work through it. We talked about the crazies who signed up for the week-long tour. Or worse yet, the people who will be riding cross-country for nine weeks! DH and I made silly jokes to pass the time. We also argued about whose idea this was.
"You are the one who sent me the link and said we could take it nice and easy," I said.
"You're the one who is always saying we need to do more things together," DH countered.
It felt good to be exhausted, out in the country, just me and DH and our bicycles. There were a few times I wasn't sure I had it in me to continue. My legs were screaming for mercy. But, we did it! We finished!
"A feat never to be undertaken again," said DH.
But after a shower, lunch at a local pub, and a couple of hours on the road towards home, I found these words coming out of my mouth: "You know, if we do the six or seven day tour, I think it would be totally worth it to pay for the tent set up and tear down service. Can you imagine having to sleep in a wet tent tonight?"
DH gave me his "you're kidding" look.
"Well, if we actually trained, it would be easier and we could see some more of the sights." I reasoned.
DH just shook his head, and soon all I saw was the back of my eyelids, lulled to sleep and glad for the comfort of the passenger seat.