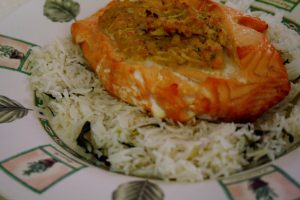 On a recent stock-the-pantry trip to Costco, DH picked up some stuffed salmon fillets. For some reason after a long day of shopping I really don't feel like cooking, so we took the easy route. He grilled the salmon while I made this easy-peasy side dish. I'm always looking for an excuse to get out my rice cooker!
This recipe is from The Ultimate Rice Cooker Cookbook so it calls for a rice cooker; however you could adapt it to your preferred method of cooking rice and just add the seasonings.
Ingredients:
1 C basmati rice
1 1/2 C chicken stock
pinch of salt
1 large clove garlic
2 tsp lemon zest (I substituted a splash of lemon juice)
2 Tbsp unsalted butter
2 Tbsp fresh parsley, chopped
Directions:
Rinse rice and place in the rice cooker bowl; add stock and salt and stir to combine; set the garlic clove on top and set the cooker.
When the cooker switches to the keep warm cycle, add the lemon zest, butter, and parsley. Stir. Close the cover and let steam for 10 minutes.
Serve!
The Verdict: Even though I could have upped the lemon juice and parsley, I LOVED the flavor that cooking it in stock and the garlic imparted. I think this is my new favorite way to cook rice.
This recipe shared at Recipe Roundtable, Mouthwatering Monday, Tempt My Tummy Tuesday