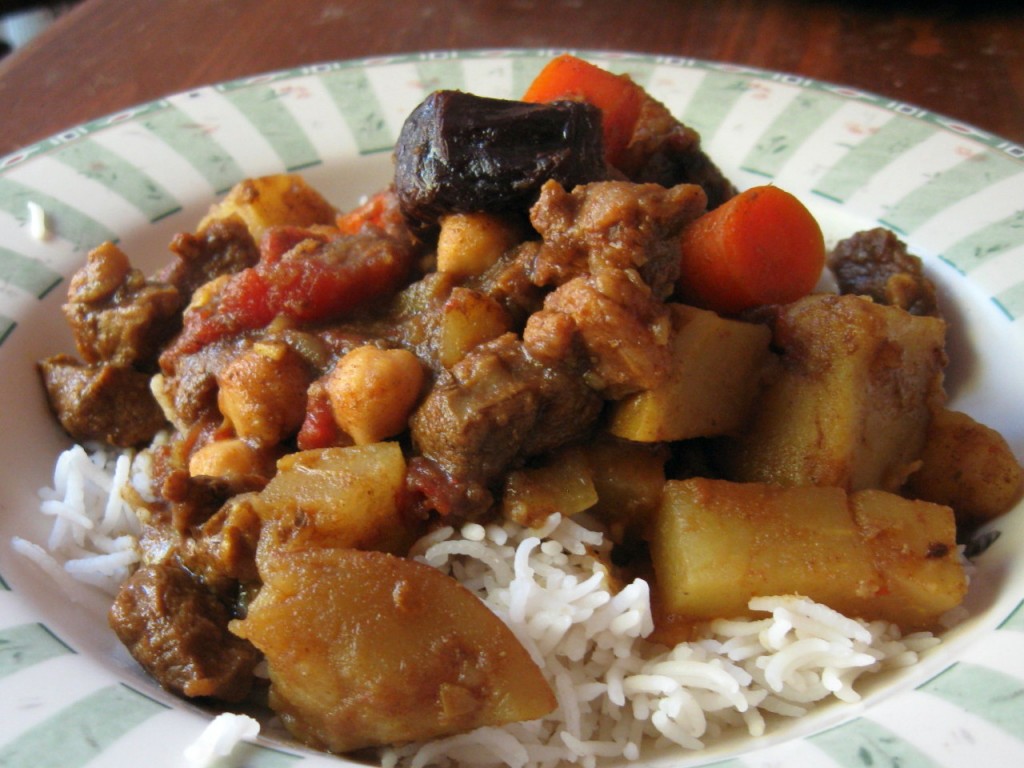 One of my favorite recipes from Simply in Season, this recipe is an excellent example of a stew. Don't let the long list of spices turn you off – it goes together rather quickly.
Ingredients
1 1/2 lb lamb or beef
1 large onion, chopped
2 cloves garlic, minced
5 medium carrots, chopped
2 cups stewed tomatoes
2 medium turnips
1 medium potato
1 cup water
1/2 tsp salt
1 cinnamon stick
1 tsp ground cumin
1 tsp coriander
1 tsp cloves
1 tsp turmeric
1/4 tsp crushed red pepper flakes
1 pinch allspice
1 pinch ground nutmeg
2 cups chickpeas
1/2 cup pitted prunes (halved)
1/2 cup raisins
2 Tbs fresh parsley, chopped
Instructions
Chop meat into bite-size pieces and brown in the bottom of a large soup pot.
Remove meat and saute' the onion and garlic in the drippings in the pot. Return meat to pot.
Add carrots through the spices and bring to a boil; cover; reduce heat and simmer for 40 minutes.
Stir in chickpeas, prunes, and raisins and cover and cook for another 10 minutes or until vegetables are tender.
Serve over rice or couscous and garnish with parsley.
https://www.wholisticwoman.com/marrakesh-lamb-stew/
The Verdict: If you prefer bland food, this is probably not for you. But for those of us who love lots of flavor, wow! Don't let the long list of ingredients and spices scare you – once you do the prep work it goes together quickly.
Nutrition Facts
Serving size: 1/6 of a recipe (18 ounces).
Percent daily values based on the Reference Daily Intake (RDI) for a 2000 calorie diet.
Nutrition information calculated from recipe ingredients.
Amount Per Serving
Calories 479.65
Calories From Fat (25%) 122.3
% Daily Value
Total Fat 13.72g 21%
Saturated Fat 5.09g 25%
Cholesterol 68.04mg 23%
Sodium 749.3mg 31%
Potassium 1353.05mg 39%
Total Carbohydrates 60.1g 20%
Fiber 10.7g 43%
Sugar 16.48g
Protein 32.29g 65%
This post shared at Simple Lives Thursday, Monday Mania