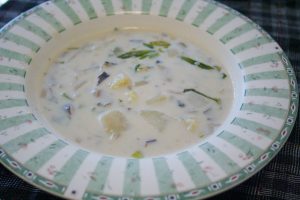 We are gradually getting over our colds here at the Hammond household, but soup is still the food of choice. Since I had potatoes from last week's CSA pickup I went looking for a soup that incorporated them. It was a bonus that this recipe happened to incorporate another of my favorite foods–mushrooms!
Aside: I recently gave into my cookbook addiction once again, purchasing Heartland: The Cookbook and Prairie Home Cooking: 400 Recipes that Celebrate the Bountiful Harvests, Creative Cooks, and Comforting Foods of the American Heartland (America Cooks), both by Judith Fertig. Yes, I already had Heartland on e-reader, but I really wanted a print copy. I have been exploring the concept of Midwest cooking ever since I reviewed Heartland. I believe it's an extension of my journey of eating locally and seasonally. I love global cuisine as much as the next person (probably more than your average Midwesterner), but there's something about learning about one's own local culinary history that's appealing to me.
Polish Wild Mushroom and Potato Soup
Source: Prairie Home Cooking
Ingredients:
1 1/2 C (3/4 oz) dried wild mushrooms (as I've mentioned before on this blog, I love the dried mix from Costco)
2 Tbsp unsalted butter
3/4 C chopped yellow onion
1 C chopped celery
1 tsp caraway seeds
4 large potatoes, peeled and diced (I didn't peel them, I almost never do. Some call it lazy; I call it "rustic.")
1/4 C all-purpose flour
1 quart milk
1/2 C heavy cream (since I was using raw milk, unskimmed, I just used a bit more milk)
salt and black pepper to taste
snipped fresh chives or minced fresh parsley for garnish
Directions:
In a large saucepan, combine the mushrooms and 3 C of water. Bring to a boil, then reduce the temp and simmer for 15-20 minutes or until the mushrooms have begun to soften. Drain, reserving the liquid, and then finely chop the mushrooms (or, for a chunkier soup, chop less fine).
In the same saucepan, melt the butter and add onion, celery, caraway, and mushrooms and saute' over medium heat until the celery is tender. Meanwhile, put the reserved mushroom liquid in a large stockpot and bring it to a boil.
Add potatoes to the mushroom liquid and cook, at a gentle boil, until the potatoes are tender. Note: Be sure to cover, and also be sure to check the levels of the liquid. For some reason I had to add about a cup of water in to make sure it had liquid in which to cook. Takes about 10-15 minutes. Add the sauteed vegetable mixture to the potatoes and return to a boil. Mash about half the potatoes against the stockpot with a spoon.
Whisk together 1 C of the milk and the flour, stir into the soup, then add the remaining milk. Reduce heat and simmer until it's heated through.
Salt and pepper to taste.
The Verdict: Although its appearance slightly resembles that of cream of mushroom soup, there is no comparison. This is so creamy and earthy. The mushrooms don't get lost. I'm thinking it could use a touch of garlic, or else more onion, but that could just be me.
This post shared at Pennywise Platter Thursday, Frugal Friday,  I'm Lovin It