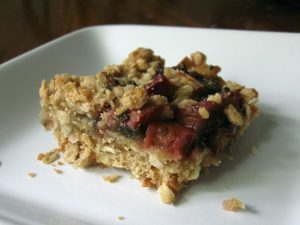 What's sorrel, you might be wondering?  Well, I was wondering too when I saw this recipe. I vaguely remembered getting some at a CSA when I made this recipe last year, but I didn't remember seeing it in the spring. So I was prepared to substitute strawberries as Simply in Season suggests. And wouldn't you know it?  I found some sorrel at the farmer's market!
Actually, it was lemon sorrel, but I figured, "eh, close enough." The older guy who was selling it asked what I was going to do with it, and when I told him make a rhubarb crisp, he was mighty surprised.
I'm republishing this recipe from last year because I was recently given a large sorrel plant from my friend Holly–I see another batch of this in the near future!
FOR PRINTABLE VERSION CLICK HERE: Rhubarb Sorrel Crisp
4 cups rhubarb (chopped)
2 cups sorrel (chopped)
1 cup sugar
1 Tbs orange peel, grated (I used lemon peel since it was lemon sorrel)
1 tsp vanilla
1/4 cup water
3 Tbs cornstarch
1 1/2 cup flour
1 1/2 cups rolled oats
3/4 cup brown sugar
3/4 cup butter
1/2 tsp salt
1/2 tsp ground cinnamon
1. Combine rhubarb, sorrel, sugar, orange peel, and vanilla in large saucepan. Bring to a boil over medium-high heat, then reduce to medium and cook 4 minutes, stirring frequently.
2. Dissolve cornstarch in water. Add to rhubarb mixture and cook until thickened, stirring constantly. Set aside.
3. Mix together remaining ingredients until crumbly. Place about 3 1/2 C of the mixture on the bottom of a greased 9×13 pan. Cover with the rhubarb/sorrel mixture. Sprinkle remaining crumb mixture on top and bake in a preheated oven at 350F for 30-40 minutes.
Servings: 12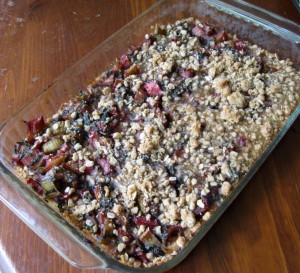 The verdict: I'm not sure what sorrel tastes like, even after eating this, because all I tasted was rhubarb. There was a slight sourness which may have been the sorrel. It was super delicious, though, and since it has sorrel in it (which is kind of a leafy green) that means it's healthy, right? The crumb mixture was nice and toasty, just the way I like it. Have I mentioned yet how I LOVE the sweet/sour effect of rhubarb desserts? Sigh.
Nutrition Facts
Serving size: 1/12 of a recipe (4.6 ounces).
Percent daily values based on the Reference Daily Intake (RDI) for a 2000 calorie diet.
Nutrition information calculated with Living Cookbook Recipe Management Software
Amount Per Serving
Calories 335.86
Calories From Fat (33%) 109.24
% Daily Value
Total Fat 12.47g 19%
Saturated Fat 7.46g 37%
Cholesterol 30.5mg 10%
Sodium 112.2mg 5%
Potassium 232.61mg 7%
Total Carbohydrates 53.72g 18%
Fiber 2.58g 10%
Sugar 30.81g
Protein 3.71g 7%
This post shared at Seasonal Sunday, Fight Back Friday, Friday Potluck, I'm Lovin' It, Food on Fridays, Friday's Favorites, Fresh Bites, Mmmm Dessert