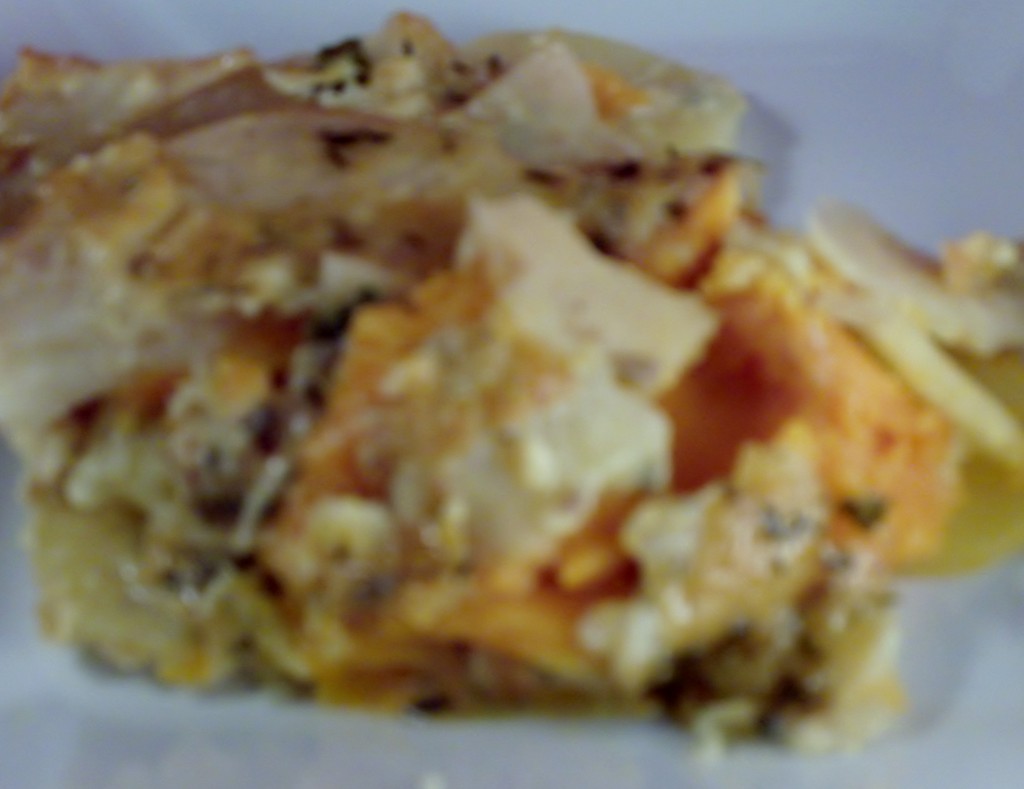 Collective Bias sponsored a recipe swap, and luckily I was paired with my friend from What Megan's Making. When she sent me the recipe, she said that she had seen celery root at Meijer; I told her that I happened to have one in my refrigerator from my CSA (they last forever, it seems). "Only you would have celery root already in your refrigerator," she said. We had a good laugh, and I set off to get the rest of the ingredients.
You can read about the shopping trip here: http://whrrl.com/e/ii382
Ingredients:
1 Tbs. unsalted butter
3 garlic cloves, minced
3 cups heavy cream
Salt and freshly ground pepper, to taste
1/4 tsp. freshly grated nutmeg
1 lb. parsnips, peeled and sliced 1/8 inch thick
1 lb. sweet potatoes, peeled and sliced 1/8 inch thick
1 lb. celery root, peeled and sliced 1/8 inch thick
8 oz. Gruyère cheese, shredded
1 Tbs. minced fresh thyme (I used a tsp of dried)
3 Tbs. minced fresh flat-leaf parsley
Preheat an oven to 400°F. Spray a Dutch oven or 3 qt casserole with Pam.
Directions:
In a large saucepan over medium heat, melt the butter. Add the garlic and cook for 1 minute. Add the cream, salt, pepper and nutmeg and heat just until bubbles form around the edges of the pan, about 5 minutes. Remove from the heat and let stand for 10 minutes.
Arrange a layer of parsnips, slightly overlapping, in the prepared dish. Arrange a layer of sweet potatoes on top, then a layer of celery root. Pour half of the cream mixture over the celery root, and sprinkle half of the cheese, thyme and parsley on top. Repeat with the remaining ingredients.
Cover the dish and bake for 1 hour. Remove the lid and lightly press the gratin down with a spatula. Continue baking until the vegetables are tender and the top is golden brown, 15 to 30 minutes more. Let the gratin stand for 15 minutes before serving. Serves 12 to 15.
Megan says this recipe was from Williams-Sonoma.
The Verdict: The expensive cheese was worth it. The tangy cheese and celery root paired well with the sweet potatoes and parsnip; and the creamy nutmeg sauce tied everything together. A definite winner.
Note: I was compensated by Collective Bias for this project, but all opinions are my own.
This post linked to Monday Mania, Tempt  My Tummy Tuesday, and Tuesday Twister