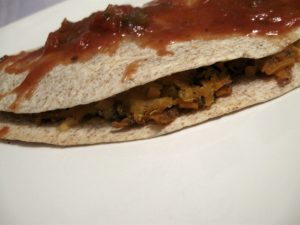 This is another one of those recipes from Simply in Season where I read it and was like "huh?" But when I started to add the herbs, it all started to come together. I hope that someday I'll be able to figure all these herbs out, and what flavors they help meld together.
This recipe was made much easier by my new food processor – just whirred up the sweet potatoes, onions, and garlic, sauteed, added the herbs, and almost done!
The recipe:
1 1/2 cups onion, minced
2 cloves garlic, finely minced
2 tsp dried oregano
1 1/2 tsp each: dried basil, marjoram, chili powder
pinch red pepper
4 cups sweet potatoes (shredded)
8 tortillas
1 cup shredded cheddar cheese
salsa
sour cream
1. Saute' in large frypan garlic, onion, and shredded raw sweet potatoes until onion is translucent and sweet potatoes are cooked soft.
2. Add herbs and cook another minute.
3. Spread about 1/2 C filling and 2 T cheese on half of each tortilla, leaving a 1/2 inch border on the sides. Fold each tortilla in half. Place on oiled baking sheets and brush tops with oil. Bake in preheated 400F oven until brown, 15-20 minutes. Serve with sour cream and salsa.
Servings: 8
The verdict: The combination of sweet potato, herbs and spices, and salsa really intensified the sweetness of the potato, in a good way. DH gobbled up several of these, and I had a hard time limiting myself to two.
Nutrition Facts
Serving size: 1/8 of a recipe (6.3 ounces).
Percent daily values based on the Reference Daily Intake (RDI) for a 2000 calorie diet.
Nutrition information calculated from recipe ingredients. 4 of the recipe's ingredients were not linked. These ingredients are not included in the recipe nutrition data.
Amount Per Serving
Calories 261.03
Calories From Fat (25%) 64.88
% Daily Value
Total Fat 7.38g 11%
Saturated Fat 3.64g 18%
Cholesterol 14.83mg 5%
Sodium 328.62mg 14%
Potassium 591.51mg 17%
Total Carbohydrates 40.61g 14%
Fiber 4.98g 20%
Sugar 8.46g
Protein 8.6g 17%
Recipe Type: Main Dish
This recipe linked to the Carnival of Meatless Meals , Tempt My Tummy Tuesday, Slightly Indulgent Tuesday