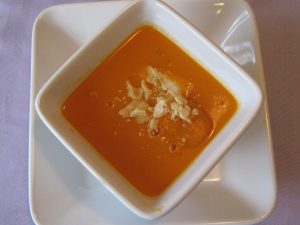 Sometimes people wonder how I do it all. Do I spend every waking moment in the kitchen? Am I up all night writing my blog? I work full time at a demanding job that sometimes requires travel, and am also training for a sprint triathlon.  First, let me say that I couldn't do it without my wonderful DH!
He pitches in with the cooking and cleaning and caretaking of our two dogs and two cats. He is also training for a half ironman. So most of the time, I do the menu  planning and cooking. He does the cleanup. Since CSA season hasn't started yet, it's not as crucial to do meal planning. What I normally do is sit down with a calendar and see what we have coming up for the next week. Nights where DH is at a training run and Bible study I can make something vegetarian. Nights where we'll both be short on time I try to see if I can find a quick recipe (usually vegetarian) or something I can adapt for the crock pot. Sometimes we end up going for Thai takeout, but other times we do make what we had planned. On weekends and nights when I don't have something going on, I go for the longer recipes. I also do my baking and canning on the weekends. Except this one – I am feeling kind of lazy. If I make a bunch of recipes on the weekend, I schedule them to post throughout the week.
After the meal plan, I type everything into Living Cookbook 2008 , which is a program that allows me to calculate the nutrition info for this blog, and also at the click of a mouse comes up with a shopping list. It's pretty slick!
Sweet Potato Soup is one of those that could be a weeknight recipe. I could easily go for a short run while it's simmering. But I'm making it on the weekend because, as I said, I'm feeling lazy today.
FOR PRINTABLE VERSION CLICK HERE: Sweet Potato Soup
Source: Simply in Season
1 onion, chopped
2 sweet potatoes, peeled and chopped
5 cups vegetable broth (I used 4 since that's what came in the box. I know, shoot me – I haven't gotten around to making vegetable broth from scratch yet. But at least I bought organic)
2 cups tomatoes with juice (or 1 can. Yes, I know, I should be canning my own too. Ha!)
1/4 tsp white pepper
3/4 cup orange juice
1. Sauté onion in soup pot until translucent
2. Add broth and sweet potatoes and bring to a boil. Reduce heat to a simmer, partially covered, until sweet potatoes are tender (20-25 minutes). Remove from heat.
3. Stir in tomatoes and pepper. Puree' with an immersion blender. (I left it a wee bit on the chunky side, because otherwise DH says pureed soups remind him of baby food.)
4. Add orange juice and water to desired consistency, heat through and serve.
The verdict: At first I wasn't too sure about the orange juice flavor. But then it grew on me. I realized this is probably really full of Vitamin C, which is great for this time of year. DH thought it was sweet but not too sweet.
Nutrition Facts
Serving size: 1/4 of a recipe (21.3 ounces).
Percent daily values based on the Reference Daily Intake (RDI) for a 2000 calorie diet.
Nutrition information calculated from recipe ingredients.
Amount Per Serving
Calories 351.47
Calories From Fat (13%) 46.73
% Daily Value
Total Fat 5.26g 8%
Saturated Fat 1.19g 6%
Cholesterol 3.08mg 1%
Sodium 2349.86mg 98%
Potassium 1375.56mg 39%
Total Carbohydrates 67.57g 23%
Fiber 9.44g 38%
Sugar 15.89g
Protein 10.95g 22%
This post linked to Made by Me Monday