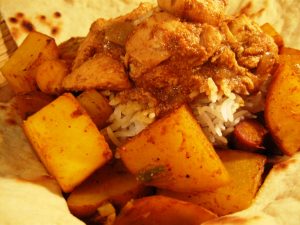 I've made this recipe from Simply in Season before (way before I started this blog). It didn't turn out as well as I remembered – read to find out why!
FOR PRINTABLE VERSION CLICK HERE: Vegetable Vindaloo
6 medium potatoes (diced)
3 medium carrots (diced)
1/4 cup vinegar
1 cup onion (diced)
2 tsp salt
1 tsp chili powder
1 tsp turmeric
1 tsp ground cumin
2 whole cardamom pods
1 cinnamon stick
1/2 tsp pepper
1 1/2 cup peas
1. Combine potatoes, carrots, and vinegar and marinate at room temp for 2 hours.
2. Saute' the onion in 2 T of oil until brown.
3. Combine the remaining spices in a small bowl, add to onion and saute' for a few minutes. Add a little water to prevent spices from burning. Drain potatoes and carrots (discard vinegar), add to frypan, and cook for 20-25 minutes).
4. Add peas and cook 5 minutes on low heat. Remove cinnamon stick. Serve hot with rice.
Servings: 6
The Verdict: Something told me I should cover the vegetables. But it didn't say to in the directions. I should have, I think I must have done so last time because they were drier than I remembered. Also, I forgot to add the peas. Oops. I didn't miss those. However I did miss something green. Will definitely remember them next time!
Nutrition Facts
Serving size: 1/6 of a recipe (12.2 ounces).
Percent daily values based on the Reference Daily Intake (RDI) for a 2000 calorie diet.
Nutrition information calculated from recipe ingredients.
Amount Per Serving
Calories 270.84
Calories From Fat (4%) 10.32
% Daily Value
Total Fat 1.25g 2%
Saturated Fat 0.19g <1%
Cholesterol 0mg 0%
Sodium 995.36mg 41%
Potassium 1174.51mg 34%
Total Carbohydrates 59.45g 20%
Fiber 10.22g 41%
Sugar 4.29g
Protein 8.12g 16%
This post linked to Meatless Mondays, Local Potluck Tuesdays