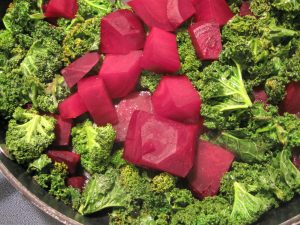 I used to think I hated beets. Turns out I just don't like canned beets in those weird jelly-like slices. When I started getting them in my CSA, I'd steam them when I made rice. The juice made the rice a pretty pink, and when they were steamed they didn't have the funny taste I remembered from my childhood.
For this recipe from Simply in Season, I didn't have the greens (in the store they're sold without them), so I substituted a bunch of kale.
4 medium beets
1 Tbs lemon juice
1 tsp Ginger-root; fresh; minced
1 tsp honey
1. Place beets in a saucepan; cover with water; bring to a boil and then lower to a simmer and cook until beets are tender when poked with a fork, about 15-20 minutes.
2. Chop greens and stems while beets are boiling.
3. Cool beets enough so you can slip off the skins; slice, and saute' the greens in butter until they're bright and just tender. Add the sliced beets and heat through.
4. Stir in the remaining ingredients and serve immediately.
The verdict: Loved the texture of the kale; since it's the middle of winter, they're starting to dry out when I get them from my winter CSA. That made these a little crunchy, and not in a bad way. I also love how the ginger and lemon add a bit of freshness to the earthy kale and beets.
Nutrition Facts
Serving size: 1 serving (12.4 ounces).
Percent daily values based on the Reference Daily Intake (RDI) for a 2000 calorie diet.
Nutrition information calculated from recipe ingredients.
Amount Per Serving
Calories 167.73
Calories From Fat (3%) 4.84
% Daily Value
Total Fat 0.57g <1%
Saturated Fat 0.09g <1%
Cholesterol 0mg 0%
Sodium 256.53mg 11%
Potassium 1096.85mg 31%
Total Carbohydrates 38.8g 13%
Fiber 9.3g 37%
Sugar 28.32g
Protein 5.4g 11%
Recipe Type: Side Dish
This post linked to Real Food Wednesday