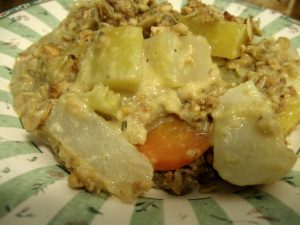 I've probably mentioned before that sometimes what Simply in Season says is a main dish, is in my opinion (or at least DH's opinion) a side dish. So when DH said that he wanted to grill some chicken tonight and could I make a side dish, this is what I chose. That way, there would be leftovers for tomorrow's lunch!
Plus, I was excited about eating turnips and rutabagas in a new way. Sometimes it's hard to think of new ways to cook root vegetables, but this recipe is super yummy!
Ingredients
2/3 cup rolled oats
1/2 cup cashews, finely chopped
2 Tbs whole wheat flour
2 Tbs oil
1 tsp dried rosemary, crushed
2 lbs root vegetables (carrots, parsnips, rutabagas, turnips, potatoes; scrubbed or peeled and cut into bite sized pieces)
1 medium onion, finely chopped
2 tbs cashews
2/3 cup milk
1 1/4 cup vegetable broth
2 Tbs flour
1 tsp dried rosemary, crushed
salt and freshly ground black pepper to taste
Instructions
Combine oats, cashews, whole wheat flour, oil, and rosemary in a medium bowl to form a crumb topping and set aside.
Steam the root vegetables until they're just tender, about 10-12 minutes. Reserve the steaming water for stock. Transfer the vegetables to lightly oiled 2 quart baking dish.
Saute' the onion in a bit of oil until soft, about 4-5 minutes. Add the cashews and lightly brown for 3-4 minutes. Stir in the milk and vegetable broth. In a cup mix flour and a little milk to make a smooth paste. Stir into the saucepan, add rosemary, and bring to a boil and simmer until thickened, stirring constantly. Season with salt and pepper. Puree until smooth and pour over the steamed vegetables, then sprinkle with the topping. Bake at 375F for 30 minutes.
https://www.wholisticwoman.com/winter-vegetable-crumble/
Servings: 4
The verdict: This is very tasty, although more fragrant than flavorful. Definitely needs salt and pepper. I suppose it *could* pass as a main course, although given the calorie count, it's s better choice as a side. It's probably my second favorite way to eat turnips and rutabagas now. (The first being a frittata).
Nutrition Facts
Serving size: 1/4 of a recipe (15 ounces).
Percent daily values based on the Reference Daily Intake (RDI) for a 2000 calorie diet.
Nutrition information calculated from recipe ingredients.
Amount Per Serving
Calories 528.2
Calories From Fat (35%) 183.77
% Daily Value
Total Fat 21.42g 33%
Saturated Fat 4.34g 22%
Cholesterol 4.02mg 1%
Sodium 560.25mg 23%
Potassium 1349.91mg 39%
Total Carbohydrates 75.62g 25%
Fiber 8.42g 34%
Sugar 8.44g
Protein 13.55g 27%