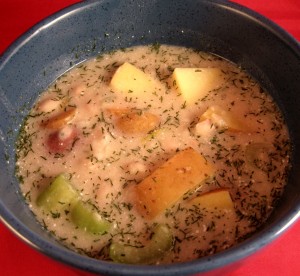 Before I started this challenge of cooking through Simply in Season
, I hardly ever made soup. But over the last several months I've discovered that it's one of my favorite things to make. It's very forgiving – no tricky timings, the quantities of ingredients don't have to be exact, and it reheats well for lunches throughout the week. Oh, and it's usually filling while not being too many calories. I almost cried when I had to buy canned soup for lunch last week. It was SO not the same.
I used dried beans for the recipe. You can see how I cooked them in yesterday's post.
Dilly Bean Potato Soup
1 1/2 cups celery chopped
6 carrots, shredded
3 cloves garlic clove, minced
12 cups chicken broth (I ran out of chicken broth, so I also added some vegetable broth and water)
9 large potatoes diced
salt to taste
8 cups Great Northern Beans
2 Tbs dill weed
1 1/2 cups plain yogurt
3 Tbs flour
3/4 tsp pepper
1. In large soup pot saute' celery, carrots, and garlic in 2 T oil.
2. Add broth, potatoes, and salt and simmer 20-25 minutes, until potatoes are tender. Mash some of the potatoes for a creamier texture.
3. Add the beans and dill weed.
4. Combine yogurt, flour, and pepper and stir into soup until the soup is thickened.
Servings: 12
The verdict: Very tasty, filling, and I'm reminded again of why homemade is so much better than canned. I think next time I'll add some kale.
Nutrition Facts
Serving size: 1/12 of a recipe (22.7 ounces).
Percent daily values based on the Reference Daily Intake (RDI) for a 2000 calorie diet.
Nutrition information calculated from recipe ingredients.
Amount Per Serving
Calories 391.92
Calories From Fat (6%) 25.34
% Daily Value
Total Fat 2.82g 4%
Saturated Fat 0.96g 5%
Cholesterol 1.84mg <1%
Sodium 865.33mg 36%
Potassium 1664.37mg 48%
Total Carbohydrates 70.32g 23%
Fiber 13.14g 53%
Sugar 6.13g
Protein 22.96g 46%