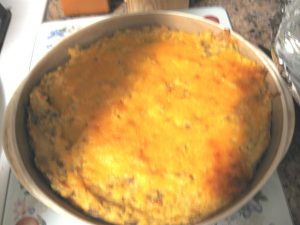 Please excuse the quality of this photo, as it was taken at MIL's house at 6 PM in her kitchen on a snowy Michigan evening.
I'm starting to feel like a failure at this Dark Days Challenge thing. I had a meal planned for tonight, but was not feeling well, and have a refrigerator full of leftovers. I made several items that were local over the past week, but not an entire meal. This Dilly Mashed Potatoes Dish is actually a good example.This is one of the items that DH and I made our in laws last night. This was the big hit of the evening, with both Grandma and Mother in Law asking for the recipe. The 6 of us managed to polish the whole thing off. The rest of the meal was chicken (not local, as we weren't expecting to make this dinner and suddenly had to feed 6 people, and I have no idea where to get local chicken at 4 PM on a Saturday evening); apple praline pie (made with local apples, but the rest wasn't); and apple rice stuffing (again, the apples and celery were, but not the rest of it).
So I submit to you a semi-local side dish, which was served at a meal that was semi-local. What I'm learning most from this whole Dark Days Challenge is the need to plan ahead.
Mashed potatoes, of course, are always a huge hit, but this recipe from Simply in Season has some extra special touches.
I have to confess, I was worried about how this would turn out too. (Are you sensing a pattern? LOL). I was worried that they would think it weird that I didn't peel the potatoes or carrots.  I was worried they would think it was weird to put carrots in mashed potatoes. But in the end, it was all good.
5 large potatoes, chopped (from my winter CSA)
4 large carrots, diagonally sliced (from my winter CSA)
2 tbs butter
1/4 cup green onion, sliced
1 tsp dried dill
1/2 cup sour cream
1/2 tsp salt
1/4 tsp pepper
1/2 cup cheddar cheese or reduced-fat cheddar cheese, shredded (1 cup)
1. Boil potatoes and carrots together until they're soft; drain, mash, set aside.
2. Melt butter in frypan and saute' onions and dill. Add to potatoes.
3. Stir the yogurt, salt, and pepper into the potatoes and mix well. Put into a 2 1/2 qt casserole dish.
4. Sprinkle the cheese on top and bake, uncovered, at 350F for 30 minutes.
5. You can also freeze it before baking, and then to serve bake 1 hour covered and another 20 minutes uncovered.
Servings: 6
Oven Temperature: 350°F
Nutrition Facts
Serving size: 1/6 of a recipe (8.5 ounces).
Percent daily values based on the Reference Daily Intake (RDI) for a 2000 calorie diet.
Nutrition information calculated by Living Cookbook.
Amount Per Serving
Calories 253.51
Calories From Fat (39%) 98.88
% Daily Value
Total Fat 11.26g 17%
Saturated Fat 6.98g 35%
Cholesterol 28.5mg 10%
Sodium 307.05mg 13%
Potassium 866.83mg 25%
Total Carbohydrates 32.98g 11%
Fiber 4.92g 20%
Sugar 3.65g
Protein 6.72g 13%