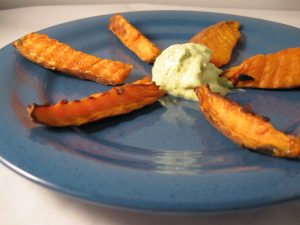 Skip the drive-thru, those overly salty grease sticks can't compare to homemade sweet potato fries!
FOR A PRINTABLE VERSION CLICK HERE: Oven Fries
4 medium baking potatoes or sweet potatoes (I chose sweet potatoes)
2 Tbs oil
1/2 tsp salt
1. Preheat oven to 425F.
2. Scrub and dry potatoes (no need to peel, unless you really want to). Slice or wedge them any way you wish. Put into a container with an airtight lid, add the oil, and shake to coat.
3. Sprinkle on the salt or any other seasonings that you wish (Simply in Season provides recipes for Greek-style fries, Super spicy fries, or rosemary garlic)
4. Spread in a single file on a baking sheet and bake 30-45 minutes or until fork tender, stirring/flipping every 5-10 minutes. Serve immediately.
5. Note: Nutrition info is calculated for regular potatoes.
Servings: 4
The verdict: DH and I couldn't get enough of these. Truly, they were as good as the ones at my favorite local restaurant. The leftover cilantro sauce from the fish tacos were the PERFECT accompaniment.
Nutrition Facts
Serving size: 1/4 of a recipe (7.8 ounces).
Percent daily values based on the Reference Daily Intake (RDI) for a 2000 calorie diet.
Nutrition information calculated from recipe ingredients.
Amount Per Serving
Calories 223.68
Calories From Fat (27%) 61.28
% Daily Value
Total Fat 6.94g 11%
Saturated Fat 0.99g 5%
Cholesterol 0mg 0%
Sodium 303.6mg 13%
Potassium 896.86mg 26%
Total Carbohydrates 37.21g 12%
Fiber 4.69g 19%
Sugar 1.66g
Protein 4.3g 9%
This post linked to Made by Me Monday and Pennywise Platter Thursday